About DMC
DMC are a fully insured vehicle appearance
specialist
b
ased
in Newbury, Berkshire and covering the
surrounding area, we have customers reaching as far as Exeter, Southend, Birmingham and beyond. We operate from our own detailing studio in Newbury, at the former RAF Greenham site now known as Greenham Business park in a fantastic 4,000 sqft unit which we have invested heavily in to ensure perfect results.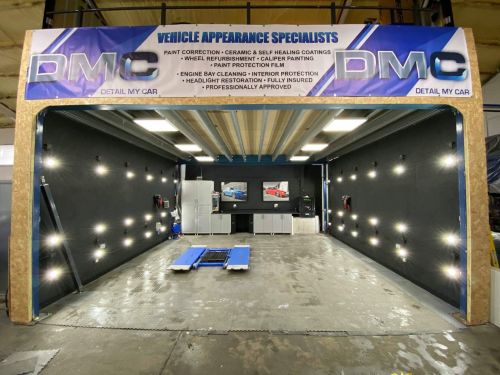 If you want that mirror like finish typically

only seen on show cars, we can help! The main difference with professional car detailing vs car valeting
is most of our time is spent carrying out a process that refines the paintwork, removing surface swirls and scratches which can make the colour seem dull. A lot of time and specialist products are used to get these results so don't be fooled by someone offering a cheap "Mop" or machine polish for £50 as the results are leagues apart and we stand by this. Having been in business since 2010 we have seen a lot of changes to this industry but have always undertaken any training or courses that we feel essential to help keep us at the top of our game and up to date with the very latest in detailing products and technology.
We also keep stock of a number of products in house that you can purchase to help maintain that just detailed look and always advise on safe wash methods to help you reduce the risk of swirls and scratches.
Please browse the site and check out the Gallery to see exactly what we can do - Chances are you may even see a car similar to yours to compare. We also keep our Facebook page fully up do date if you wish to view it www.facebook.com/detailmycar
Most of the products used in our details simply aren't available for the public to purchase, in fact in most cases you need accreddited status to be able to offer the protection products we offer. Each product is carefully selected to ensure only the best results are achieved and when it comes to protection we are approved by some of the world's leading manufacturers to apply their coatings in a controlled environment having completed the necessary training required. We have exlusive rights in this area to use professional coatings from Gyeon, Feynlab and Labocosmetica.
Correcting

paintwork requires a lot

of care & experience

as starting off with a variety of machine polishers from rotary action, dual action (long throw and short throw) there are also

hundreds of p

olish & pad combinations

for

us to pick from and no

two cars

are ever the same so this

is where

experience counts to ensure

the

best possible finish for each car. Having the ability to measure the paint depth also means we can take extra care on painted areas or at the very least make sure we find a working combination of products for each panel as painted panels are never quite the same as original.
Protection is a key element to

any detail carried out so we have a number of top professional grade coatings

to pick from which can

all be discussed and agreed at the time of booking depending on what

you want to achieve whether it's

an extremely durable coating that will last 5+years or a Swissvax wax to give that unmistakable glow and depth of shine usually reserved for concourse or show cars.
What we do
High quality fully insured (incl road risk) vehicle detailing service

offering paint correction, enhancement, swirl removal, protection for old, new or cherished vehicles - clean, correct, refine & protect.
Offering a service unrivalled in the

area we guarantee you will be blown away by the results, often ending up with a car that looks better then the day it rolled out of the factory.
We also offer interior & engine bay detailing, wheel refurbishmebt & coating, vehicle storage, Motorbike detailing, brake calliper painting, headlight restoration, paint protection film and more so there's a huge amount that can be achieved and each quote can be tailored to suit you down to the very last detail. We also work closely with a few bodyshops around the area that we trust having experienced work from just about all of them we feel we are in a good position to recommend and help ensure the work done to your vehicle is of the highest standards.
A large number of jobs we do involve us also helping with arranging bookings for paintwork repairs so please get in touch if you would like to discuss this or any of the above options.
How to reach us
Email : info@detailmycar.co.uk
Tel : 01635 34458 / 07920 867771
FB : facebook.com/detailmycar
Unit 89NE Greenham Business Park
Newbury
Berkshire
RG19 6HW